EV Fest 2015 Electric Vehicle Show

Follow the Directions on the EV Fest 2015 Electric Vehicle Show Exhibitor Directions page, to get to the North Wentworth Community Centre, then proceed with your exhibit vehicle to the East side of the parking lot.
See the Notes at the Bottom for Critical Requirements.
Upon Arrival at North Wentworth Community Centre parking lot, get Lined up by the East Side of the Arena and be ready to enter the Entrance at the Rear of the Arena when Volunteers Direct you in.
Please Be On time! Besides Disrupting Exhibitor Load In Activity, Late arrivals may delay other Exhibitors getting in position on time. Please respect them.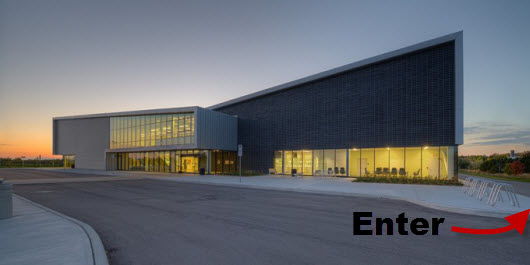 Enter in the main parking lot entrance as shown above, then travel down the right Side of the Arena to enter at the Rear, following Volunteers directing you to your Exhibiting spot.
Any Assistance you can offer to help direct other Exhibitors to load in will be appreciated!
Load In Schedule:
Exhibitors: Arrival between 06:30 AM – 08:45 AM
Exhibitors with Tents and/or Large Displays Should plan on arriving Early to begin Setup, particularly if they need a vehicle to come in and park while dropping off displays, etc. If you need more than 30 minutes to setup, please arrive by 06:30 AM, and we will schedule you in according to space needs.
No Vehicles shall be driven or Parked on the Grass. Ask our EV Fest Volunteers for Help as needed.
The Parking and Placement Floor Plan - Position Details, Provided Below:
2015 Arena Area Architectural Area Plan - Zoned:
(Click Image for Large View)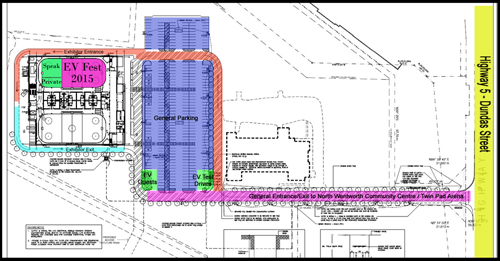 EV Fest 2015 Exhibitor Floor Plan Zones:
(Click Image for Large View)

Exhibitors by Zone:

With the Green Zone at the Arena Entrance, you get started with 1970's Electrics and as you move away from the Entrance you see Newer, younger, and Higher Performance Electric Vehicles, and ultimately - Charging Stations!
Not Listed Above, but also registered: EV Life, and BMW i3 (Test Ride Area).
The Prius is being shown for Reference: Great Fuel economy, but ~ 1 Mile EV Range - the Lowest Battery All Electric Range of any Exhibit Vehicle.
---
Load in Schedule*.
*If anyone is entering past 8:30AM - Plans must be approved
EV Fest 2015 Exhibitor Load In Schedule:
(Click Here for a Print Copy)
| | | |
| --- | --- | --- |
| | Start | End |
| Green Zone | 06:30 | 07:00 |
| ArcTrike, John Zoccano | | |
| 2X 1970 Tractors, Geof Thompson | | |
| MF 1970 tractor, Doug Hart | | |
| 1970 Marden, Brian James | | |
| | Start | End |
| Yellow Zone | 07:00 | 07:30 |
| Tesla S85, Erik Haltrecht | | |
| Volt, Ben Faiola | | |
| Prius, Darius Vakili | | |
| Jaguar XJ EV, Don Singh | | |
| | Start | End |
| Blue Zone | 07:30 | 08:00 |
| Inventors Group, Frank D'Urzo | | |
| EVOO, Dwane Smolders | | |
| EVSC, Darius Vakili | | |
| GHEVA, Stephen Bieda | | |
| Toronto Hybrid Group, Erik Haltrecht | | |
| | Start | End |
| Red Zone | 08:00 | 08:30 |
| Tesla P85D, Cindy Toth | | |
| Tesla Roadster, Jaff Stevenson | | |
| BMW i8, David Chisholm | | |
| SunCountry Highway, Stephen Bieda | | |
---
| | | |
| --- | --- | --- |
| | Start | End |
| Finalizing Fencing | 08:30 | 09:00 |
| Finalize Exhibit Space | | |
| Prep Speaker Space | | |
| Exhibitors Break Space | | |
| Last Minute Exhibitors* | | |
*If anyone is entering past 8:30AM - Plans must be approved
Targeting Completion of this setup - by 9:00 AM gives Exhibitors Time to see the other exhibits, before guests arrive, grab a snack, or use the Facilities with no interference.
Exhibitors or Others that have Speaking Schedules
* Update - Please Note:
As Speaking Positions are still changing, Schedules Will be Provided at the latest, at Load In, to Speakers as Booked in. Speaking will be in A Newly Designated area for this year, past the main exhibit space, to the back of the arena.
(EV Fest 2015 is using the East Arena as the Primary Exhibit Space to allow easier Vehicle Entrance, and Greater Visibility at Guest Entrance, versus the West Arena used for EV Fest 2014!)
---
Exhibitors at end of day will exit from the Rear of the Arena, turn left, and left again up the left side of the Arena: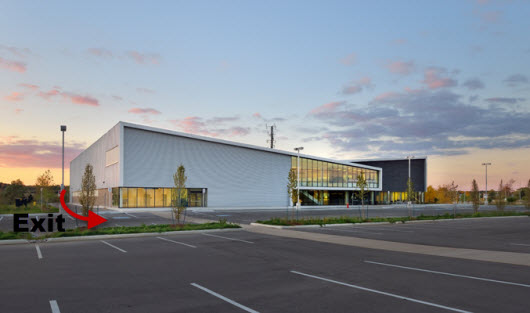 Entering down the Right Side and Exiting up the left side will reduce any exhibitor arrival / departure - unload/load cross traffic issues.
Exhibitor Load Out Time: 5:15 PM - 7:30 PM
Please Note Important Exhibitor Requirements:
Due to Event Insurance Regulations, Exhibitor Vehicle Movements in the Arena are Not allowed during the Show Time from 09:45 AM until Load out Begins at 5:15 PM!
Due to Event Insurance Regulations, No Vehicle May be Switched, Swapped, or Traded for an outside Vehicle, or Removed from the Arena to assist with Test Drives, or Depart the Show, during the above Mentioned Times. Plan on Separate Vehicles to manage all Test Drive Activities if offered.
Test Drive Areas for EV Fest 2015 may be staged slightly Different than in the past - to allow Test Drive Vehicles to be off-line for Charging. The South Side of the Arena Parking Lot offers Charging, and Additional Spaces where Active Test Drive Vehicles may be Staged From, to Avoid Conflicts or confusion.
Plan on a full time commitment when exhibiting at EV Fest 2015, without need to depart Early, for any reasons, as all Exhibiting Vehicles in the Arena must remain Static during the Full Show time, plus a 15 minute time window to secure the space at the start of the show, and a 15 minute window to allow guests to leave before vehicle movements begin.