Don't Miss out! Sign up today for EV Fest News Updates!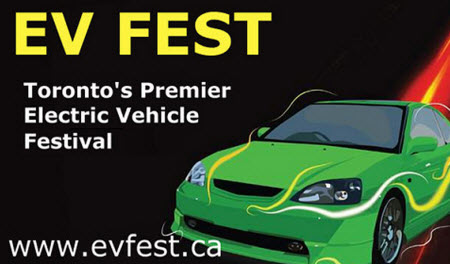 EV Fest 2013
At a New EV and Alternate Energy Centric Location: BAKA Mobile Head Office!
Join us on Sunday,


September 22, 2013
10:00 AM to 5:00 PM,


630 The East Mall,


Toronto, Ontario
Canada M9B 4B1
At EV Fest 2013 You will see New Electric Vehicles (EV's), Plug-in Hybrid EV's, EV Charging Solutions, Electric Motorcycles, EV Conversions, EV Conversion Components, eBikes and Scooters, LED and HID Lighting, & have a chance to meet Local Electric Vehicle Organizations and their Organizers, and More!
BAKA Mobile

has gratiously Offered to Host EV Fest 2013 on their Property, and allow us to use and Access their

Solar Carport

and Eight (8) EV Chargers during our Show!
Ready to Buy you tickets?

Click Here

!
Their Plugshare Link, taking you to their Map & Location


Their Solar Canopy - As seen from Beside Highway 427.


Their Solar Canopy & Chargers - as seen from their Parking Lot and EV Fest 2013 Exhibit Space

Also See our Facebook page for site updates!
Parking will be limited at 630 The East Mall, but there is additional parking at our neighbor South of us - 620 The East Mall, and some maybe be available at 600 The East Mall. See the EV Fest Parking page for details.
When you get parked - come on over to the Show at 630 the East Mall! But - before you leave home - Print this outline with Who's Where to bring with you: EV Fest 2013 Exhibitors by Number (Letter Size pdf)
EV Fest 2013 Radio Ad:
---
Keep an eye on this page for EV Fest 2013 updates!
In the Meantime, see our EV Fest Blog or Sign up for EV Fest News Updates.

---