EV Fest

Electric Vehicle Show

2011
Toronto's Premier Electric Vehicle Fall Festival suggests you start your own

Revenge of the Electric Car

at EV Fest 2011!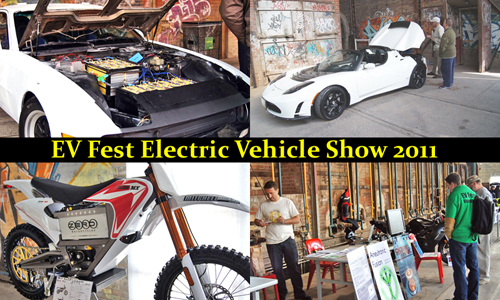 Thank you to the 36 Exhibitors to EV Fest Electric Vehicle Show that brought your energies, enthusiasm, and Exhibits to EV Fest 2011! Your examples of what is being done, what can be done, and what is soon coming, truly made the show great!
I thank you for the Static Exhibits of Battery Electric Vehicles, including Cars and Motorcycles, both EV Conversions and OEM EV's; Plug-in Hybrids, including both OEM and Aftermarket variants; Hybrids; eBikes, Electric Scooters, Trikes and Mobility Products; Waste Vegetable Oil Conversions; EV Conversion Components and Suppliers; Potential New Energy Sources, and More!
Thank you also to Autoshare who offered Ride & Drives and Better Place Ontario, who demonstrated Electric Vehicle Charging showing what can be done today and gave a glimpse of what is coming, to our Guests!
See our Facebook page and our 2011 Exhibitor List!
Watch the News page for site updates, and also see our Media page for stories of EV Fest 2011!
Photo's and More Coming Soon!
We Hope you told your Friends, Business Associates, Suppliers, Customers, and Neighbors about EV Fest 2011!

---
Watch for EV Fest 2012 Dates!
As EV Fest 2011 was delayed in it's final planning until just 6 weeks before the show date, and we were able to enjoy the presence of 36 exhibitors, and we are already working on and have a date and venue held for EV Fest 2012, we expect an even greater show for you this time!
We are holding a space with more than double the room, more open layout with fewer obstacles, providing room for a wider variety of Battery Electric Vehicles, Plug-in Hybrids, Hybrids, and more!
Keep an eye on this page and on our News page for updates!